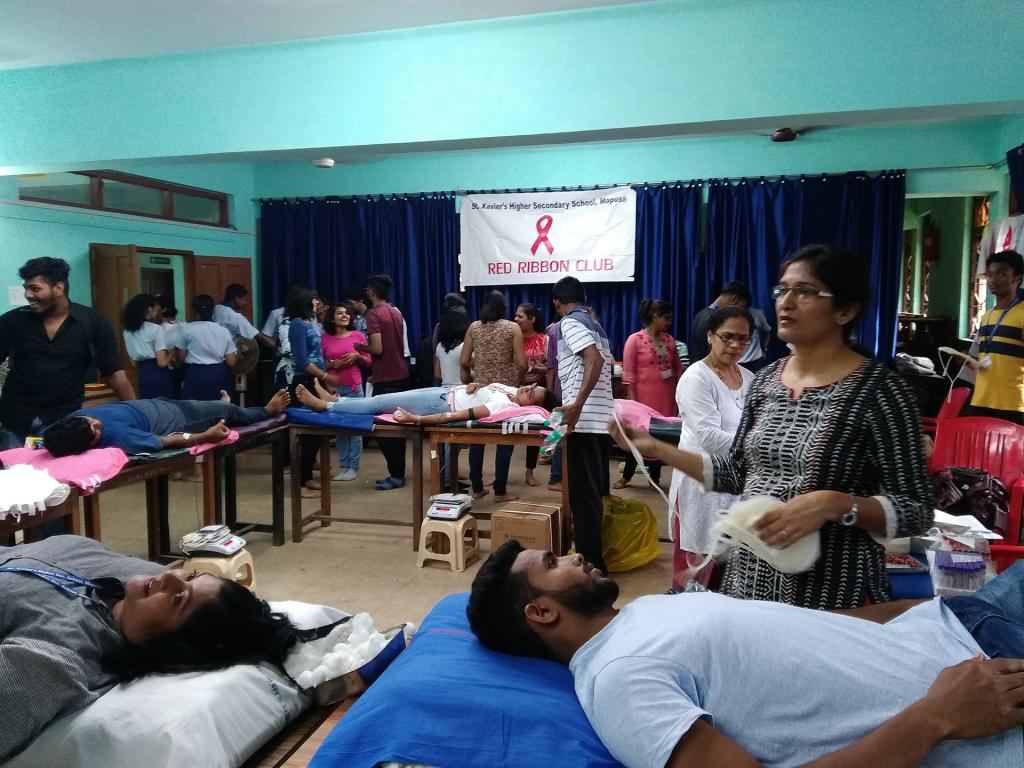 The Youth Red Cross of the Institution strives to inculcate the mottto "Per Humanitatem and Pacem" or "With Humanity, towards Peace" and developing the ideals of Jean Henri Dunant through humanitarian services in the young minds of students through various activities.
The following were the activities organised by the Y.R.C Unit form January 2019 till date.
1) CPR Training Programme: The students of Std XI along with the Y.R.C Teachers, Mr. Mahabal Bhat and Ms. Vishakha Veluskar participated in the CPR Training Programme organised by the Indian Red Cross Society at DM's Higher Secondary School, Assagao on 17th February 2019. Two of our students, viz Ms. Vedika Khautankar of XI Science (C) and Ms. Akshata Shetgaonkar of XI Science (E) were felicitated for collecting the highest amount in the State of Goa for Flag Day organised by the Red Cross Unit of Goa.
2) Installation Ceremony and Induction of the Y.R.C Office Bearers
The Installation Ceremony of te Y.R.C Unit along with the other social wings was held on 9th July, 2019. Rev. Fr. Apollo Cardozo, Director of Xavier Centre was the Chief Guest at the function.
The following Office Bearers were inducted upon taking the pledge
Chairperson: Ms. Samidha N. Walke ( XI Sc E)
Secretary : Ms. Namashri A. Parab ( XI Sc C)
Treasurer: Ms. Anisha Fernandes ( XI Sc D)

Executive Members:
1)Mr. Aaryan R. Naik (XI Sc A)
2) Ms. Prunella Pinto (XI Sc B)
3) Ms. Sydelle Pereira (XI Sc C)
4) Ms. Gianine Lobo (XI Sc D)
5) Ms. Melosa D'Souza (XI Sc E)

3) National Deworming Day : As part of National Deworming Day, the Y.R.C Unit coordinated the distribution of Albendazole tablets to around 445 students on 9th August 2019.
4) Health Camp: The Y.R.C Unit in collaboration with the District Hospital, Mapusa organised a General Health and Eye Check-up for students and staff members on 25th and 26th of September 2019. Health Officers, Dr. Shradha Chodankar, Dr. Robin Morajkar and Optometrist, Ms. Janvi Gaonkar were appointed to render their services for the camp.
5) Pledge Ceremony for Tobacco Free Educational Institution
As part of the 150th Birth Anniversary of Mahatma Gandhi, the Ministry of Health and Family Welfare sent guidelines to make Educational Institutions tobacco free therefore on this occasion a Pledge Ceremony was organised for students on 12th October, 2019. Around 1600 students pledged to desist the use of tobacco and tobacco-related products including smoking.