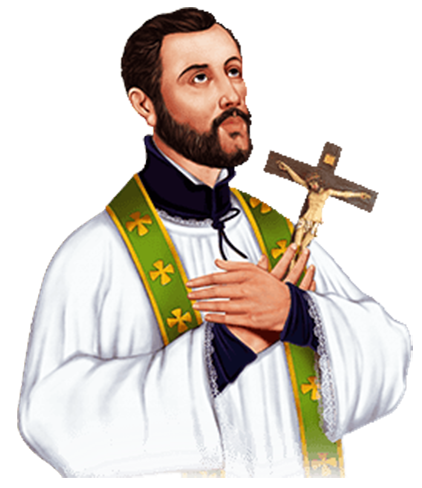 St. Francis Xavier though born in Navarre, Spain is accepted as one of Goa's sons and is affectionately given the Konkani title "Goencho Saib". He was a teacher by training and temperament and a preacher by choice. The core of his communication strategy was that where ignorance is bliss, wisdom cannot flower. He was born in Navarre, at the castle of Xavier. His mother was heiress of the two illustrious houses of Azpilcueta and Xavier and his father, Don John de Jasso, was one of the chief counselors of state to John III de Albert, King of Navarre. Among their numerous family of children, of which Francis was the youngest, those that were elder bore the surname of Azpilcueta, the younger that of Xavier. Francis was instructed in the Latin tongue under a domestic master. Since he showed a great propensity to learning, unlike his brothers who embraced the profession of arms, his parents sent him to Paris, where he entered the college of St. Barbara to study philosophy. Here he met the Savoyard Pierre Favre and St. Ignatius Loyola, and a warm personal friendship sprang up between them. Francis, who excelled in studies, was a popular student, and then a teacher, was full of ambitious thoughts and dazzled with vain glory. He used to banter Ignatius on all occasions, ridiculing the meekness and poverty in which he lived as a degenerate lowness of soul.
Ignatius repaid his contempt with meekness and kindness and continued to repeat to him "What will it profit a man to gain the whole world and lose his own soul ?" Later, Francis then began to see into the emptiness of earthly greatness, and to find himself powerfully touched with the love of heavenly things. He was won over to join Ignatius, Society of Jesus.By his meditations Francis was a changed man in his desires, affections and views. For him then the humility of the cross appeared more amiable than all the glories of this world. On 15th Nov 1536 Francis and his companions left Paris for Venice where he worked with zeal and charity in the hospital of the incurables. On 24th June 1537 he received Holy Orders with Ignatius. Francis was appointed by John III, King of Portugal to evangelize the people of the East Indies. He left Rome and went to Lisbon where he remained for months. On 7th April 1541 he embarked in a sailing vessel for India and after a tedious and dangerous voyage landed in Goa on 6th. May, 1542. He preached and administered to the sick, going through the streets ringing a little bell, inviting children to hear the word of God. He devoted almost three years to the work of preaching to the people of Western India, converting many and reaching even Ceylon. In the spring of 1545 Xavier went to Malacca to preach and bring sinners back to God. In 1546 he went to Molucca Island. By July 1547 he was again in Malacca where he met a Japanese, Angeroo. Francis then wanted to go to Japan but was recalled to Goa for some time. After settling affairs in India he set out for Japan with F. Cosme de Torre, Brother Juan Fernandez and Angeroo now converted and called Pablo de Santa Fe. They reached Japan on 15th Aug. 1549. After learning Japanese he began preaching and made some converts, but this aroused ill will of the leaders hence he was kept on the move. After working for about two and half years in Japan he returned to Goa in 1552 where domestic troubles awaited him. Later the same year, Francis set out for the Celestial Empire in China. At Malacca the party encountered difficulties but Francis managed to arrive at the island of Sancian near the coast of China. While planning the best means for reaching the mainland he was taken ill and as the movement of the vessel seemed to aggravate his condition, he was removed to the land, where a crude hut was built to shelter him.
In these wretched surroundings he breathed his last with his eyes upon his crucifix. He was only 46 years old. His corpse was interred after the Chinese fashion, in a large chest, which was filled up with unslaked lime. But on 7th Feb 1553 when the grave was opened the body was intact, infact the holy corpse exhaled an odour that was fragrant and delightful. The body was brought by ship to Malacca on 22nd March and interred in a damp churchyard, yet in August it was still found to be entire and fresh. It was then brought to Goa and placed in the Church in the College of St. Paul on 15th March, 1554. St. Francis was beatified by Pope Paul V in 1554 and canonized by Pope Gregory XV in 1662. The holy relics of the Saint are still enshrined in a Silver Casket in the church of Bom Jesus in Old Goa and Expositions are held by the Church. In 1614 by order of Claudius Aquaviva, General of the Society of Jesus, the right arm was severed at the elbow and conveyed to Rome, where the present altar was erected to receive it in the Church of the Gesu. It is truly a matter of wonder that one man, in the short space of ten years when transportation was quite difficult — could have visited so many countries, traversed so many seas, and preached the Gospel to so many nations. The incomparable apostolic zeal which animated him, and the stupendous miracles which God wrought through him, explain this marvel which has few equals in history.